Other Services
Copyright @ Cryptex Pte. Ltd.
Ethereum up by 12% in the last 24 hrs
May 15, 2019
|
Cryptocurrency
|
Analysis
Following a strong correction in price, the price of Ethereum (ETH) has surged by 12% from ~$200 to around ~$230 just within 24 hours.

(Image Source- Tradingview)
This price pump is not an isolated case, as a large chunk of the crypto market is following the bullish candles of Bitcoin, which is up by 38% since the last 30 days by breaking some major resistance levels.
Albeit many traders are expecting a retrace in the price of bitcoin, both the technical and the fundamental signals are indicating a bullish trend.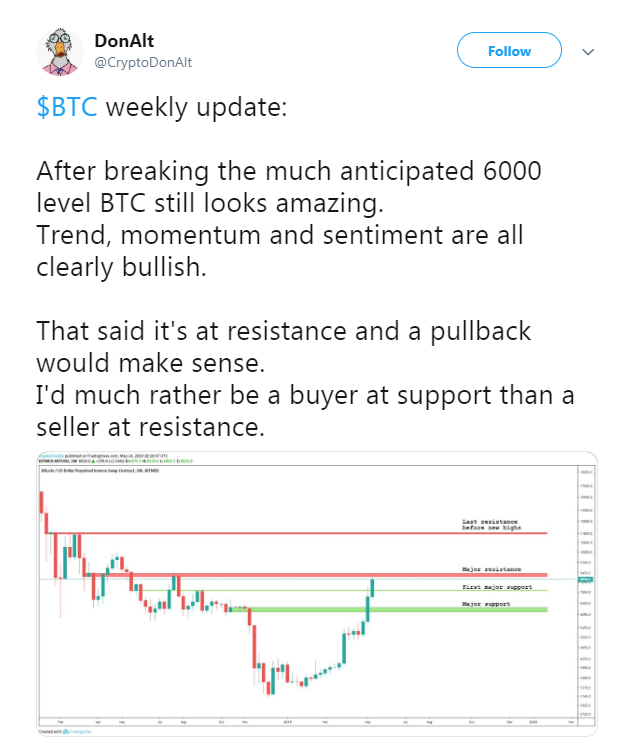 (Image Source - Twitter)
Many analysts are also optimistic about the market as they believe one of the major cryptocurrency exchange Binance, which is currently under maintenance and have halted the operations for the same, will affect the market very positively once resumed.
Thumbs Up 1
Thumbs Down 0
Cryptocurrency Prices
$3,243.29

3,517.8 (24H Volume)

$3,243.29

3,517.8 (24H Volume)

$3,243.29

3,517.8 (24H Volume)

$3,243.29

3,517.8 (24H Volume)
Live
Subscribe for newsletters
We cover Bitcoin, Blockchain and altcoins bringing you the latest news